Recognize, Appreciate, and Celebrate
Whether it's products that support physical well-being, or the opportunity to experience better financial security, 4Life lives by the philosophy of Together, Building People®. Our recognition program serves as an extension of this core value and is based on the appreciation and edification of our family of distributors.
Learn more about 4Life rank advancements.
President's
Club
Meet the prestigious group of new President's Club members!
Erzhena Nazarova & Sergey Nazarov

International Diamond

RUSSIA
Distributor
Achievements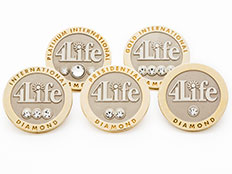 Summit
Platinum Edition

Bak Mi Ae & Eom Kwang Bok
Platinum International Diamonds

Platinum International Diamonds Bak Mi Ae & Eom Kwang Bok from South Korea share their exciting journey to success with 4Life.
Latest Rank
Advancements
Jesus M Ceja Granados

- US

Presidential Diamond

Maria Britt

- US

Presidential Diamond

Lyndi Carnal

- US

International Diamond

Dana Lombardi

- US

International Diamond

Kim Seol Ja

- SOUTH KOREA

Presidential Diamond

Tiffany Carnal

- US

Gold International Diamond

Litsi Fernandez

- US

Diamond

Park Ji Ho

- SOUTH KOREA

Presidential Diamond

Людмила Петровна Самохина

- RUSSIA

Presidential Diamond

Kong Byeong Sang

- SOUTH KOREA

Diamond

Ratna Devi A/P Simnachalam

- MALAYSIA

Diamond

Reinhard Sturr

- GERMANY

Diamond

Marco Arturo Veintimilla Guerrero

- ECUADOR

Presidential Diamond

Ruben Contreras

- US

Presidential Diamond

Brian Smolicek

- US

Diamond

Teresia Wangui Mbatia

- EMERGING MARKET

Diamond

Park Hye Young

- SOUTH KOREA

International Diamond

Dulce Zavaleta

- US

International Diamond

Grace Kang

- US

Diamond

Kim Mi Hee

- SOUTH KOREA

Diamond

Michael Lombardi

- US

International Diamond

Hope Maldonado

- US

Diamond

Erika Jianella Celi

- ECUADOR

International Diamond

Bruce Carnal

- US

International Diamond

Liliana Tapia

- US

Presidential Diamond

Bruce Carnal

- US

International Diamond

Leyda Goya Llacho Quispe

- PERU

Diamond

Li Zhefeng

- SOUTH KOREA

Diamond

Ana Gloria Rodrigues

- US

Diamond

Raquel Landa & Servando Rodriguez

- US

International Diamond

Kang Han Bit

- SOUTH KOREA

Diamond

Sarah Wernli

- SWITZERLAND

Presidential Diamond

Jeong Seo Kyeong

- SOUTH KOREA

Presidential Diamond

Park Hye Suk

- SOUTH KOREA

Diamond

Igor Vladimirovich Muzalev

- RUSSIA

Presidential Diamond

Lee Jeong Hae

- SOUTH KOREA

Presidential Diamond

Diana Rosa Carballo Ramirez

- EMERGING MARKET

Diamond

Juan Andres Salinas Lotero

- ECUADOR

Presidential Diamond

Helder Francisco Martins

- EMERGING MARKET

Presidential Diamond

Abel Delgado

- US

International Diamond

Kim Jongim

- SOUTH KOREA

Presidential Diamond

Raquel Landa & Servando Rodriguez

- US

International Diamond

Dong Jun Park

- SOUTH KOREA

Presidential Diamond

Elvia Ceballos

- US

Diamond

Ayim Meren

- INDIA

Diamond

Eka Burhan

- INDONESIA

Diamond

Michael Lombardi

- US

International Diamond

Lorena Aguirre

- US

Presidential Diamond

Anita Graciella Cueva Medina

- ECUADOR

Presidential Diamond
Special
Awards